In the May 6, 1957, issue of Newsweek, Graham stated: "I have many friends among Catholic priests, and a number of New York Catholic leaders have written me stating that they believe New York needs a spiritual awakening, and have promised me their prayers and interest even though they could not officially support the meetings. The Catholic Church has always been as friendly and as tolerant as their church law will allow them toward our crusades."
In a report in Newsweek magazine in October 1960, Graham admitted that he would not lead Catholics out of their denomination: "Despite their probable Roman Catholic background, some 50 percent of Spanish-speaking New Yorkers have no current church affiliation of any kind, according to Protestant churchmen. Dr. Graham made it clear that he and his fellow crusaders have no intention of doing any proselyting. He emphasized: 'The important thing to us is that these people are unchurched. We want them to accept Christ and they can do that whether they think of themselves as Catholics or Protestants'" (Newsweek, October 17, 1960).
Graham conducted crusades in Latin America in 1962. He notes that they had to "move with great caution" because of divisions and controversies between Protestants and Catholics in that part of the world. In his 1997 autobiography, he refers to that division as the fault of both Catholics and Protestants.
Upon the death of Pope John XXIII in 1963, Graham made this amazing remark from Bonn, Germany: "I admire Pope John tremendously. I felt he brought a new era to the world. It is my hope that the Cardinals elect a new Pope who will follow the same line as John. It would be a great tragedy if they choose a man who reacted against John, who re-erected the walls" (Michigan City News-Dispatch, June 2, 1963).

From one false prophet to another
In 1963, Graham spoke at a Park Sheraton Hotel breakfast that was held to support his New York World's Fair pavilion. The New York Times of October 25 reported that he spoke on increasing cooperation between Protestants and Roman Catholics, and said if Pope Paul asked him to go out and preach the gospel, he would do it (Wilson Ewin, Evangelism: The Trojan Horse of the 1990's). The problem with such a statement is that it confuses people and fails to make any distinction between false gospels and the true gospel. Pope Paul did not preach the true gospel of the grace of Christ. He preached Rome's sacramental grace-works gospel. Why, then, does Graham say he would preach the gospel if asked by Pope Paul? What gospel would he preach under such circumstances? Pope Paul's gospel, or the Bible gospel? Graham pretends that they are the same, and herein lies the great error and wickedness of ecumenical evangelism.
It was also in 1963 that Graham first spoke at a Roman Catholic institution. It was the Belmont Abbey College. Four years later he was awarded an honorary degree by this institution (The Gastonia Gazette, Nov. 22, 1967). The priest who invited Graham, Cuthbert Allen, Executive Vice-President of the college, noted that Graham was scheduled to speak at other Catholic colleges that year. In the New York Times for October 25, 1963, Graham acknowledged that he had preaching engagements scheduled at five Roman Catholic institutions. Priest Cuthbert Allen made the following interesting observation of Graham's ministry:
I am the one who, being acquainted with Billy Graham, invited him to speak to the Fathers, the Nuns, students and invited guests, and I am pleased to reply to your inquiries. Billy Graham gave an inspiring and a theologically sound address that may have been given by Bishop Fulton J. Sheen or any other Catholic preacher. I have followed Billy Graham's career and I must emphasize that he has been more Catholic than otherwise, and I say this not in a partisan manner but as a matter of fact. Knowing the tremendous influence of Billy Graham among Protestants and now the realization and acknowledgment among Catholics of his devout and sincere appeal to the teachings of Christ ... I WOULD STATE THAT HE COULD BRING CATHOLICS AND PROTESTANTS TOGETHER IN A HEALTHY ECUMENICAL SPIRIT. I was the first Catholic to invite Billy Graham; I know he will speak at three other Catholic universities next month; I believe he will be invited to more Catholic colleges in the future than Protestant colleges. So I am well pleased, then, to answer your question: BILLY GRAHAM IS PREACHING A MORAL AND EVANGELICAL THEOLOGY MOST ACCEPTABLE TO CATHOLICS (Letter of May 19, 1965, from Cuthbert E. Allen to Mr. Julius C. Taylor, reprinted in The Christian News, October 1, 1984).
"Nor was the fault always on the Catholic side, I knew. Often Latin American Protestants were guilty of intolerance, negative preaching, and inflammatory language. I had no intention of adding fuel to the fire. In fact, whenever possible during our trip south (as well as on other tours), I tried to meet with local Catholic leaders, to the occasional consternation of some of our hosts. My goal, I always made clear, was not to preach against Catholic beliefs or to proselytize people who were already committed to Christ within the Catholic Church" (Graham, Just As I Am, p. 357).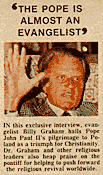 In May 1966, Graham made this statement: "I find myself closer to the Catholics than the radical Protestants. I think the Roman Catholic Church today is going through a second Reformation" (Evening Bulletin, Philadelphia, May 24, 1966). In July 1966, Graham held a crusade in London, England. Before leaving London, Graham met with the apostolic delegate from the Vatican (Graham interview with Edward B. Fiske, New York Times, July 17, 1966).
Billy and John Paul are pretty good friends,
here he is giving the pope a quilt as a gift.
In October 1966, Graham was honorary chairman of the "World Congress on Evangelism" in Berlin, Germany. The congress was funded by the Billy Graham Evangelistic Association. Observers included representatives from the Roman Catholic Church and the World Council of Churches. Paulist priest John B. Sheerin, special correspondent for the Religious News Service and editor of the Catholic World, spoke of Graham's powers of compromise: "The delegates had come from all over the world and from disparate backgrounds and theologies which were reflected in their diverse and dissonant interpretations of the Bible. Only the Holy Spirit, working through Billy Graham as the human instrument, could have welded together so quickly so many men of different creeds. The spirit of Pope John hovered over the council. Billy Graham was physically, palpably and inescapably present at the Congress speaking admirably and holding together forces that would unquestionably have exploded in all directions save for his presence." A month after the Berlin Congress, the Toronto Daily Star of November 19, 1966, quoted a priest, William Manseau, one of the Catholic observers at the Berlin World Congress on Evangelism: "Father Manseau noted approvingly that a Catholic publication in England recently suggested that some day the Catholic Church may canonize the Baptist evangelist, making him 'St. Billy'" (M.L. Moser, Jr., Ecumenicalism Under the Spotlight).
In April, 1972, Billy Graham received the International Franciscan Award in Minneapolis, given by the Franciscan Friars for true ecumenism. Before I quote what Billy Graham said about Francis of Assissi, first let me say this about St. Francis. He believed he was saved by works, by helping the poor. This way, he believed he was saving his soul. St. Francis was canonized, which means he was made a saint by the Roman Catholic Institution because of his strong position on the doctrine of works. Beloved, we know that this is unscriptural. Did you know that St. Francis of Assissi blessed and baptized animals and gave them Christian names?
Billy getting an honorary frock
at Belmont Roman Catholic College

Now, what did Billy Graham say about this strange fellow? He said, "While I am not worthy to touch the shoe laces of St. Francis, yet this same Christ that called Francis in the 13th century also called me to be one of His servants in the 20th century."
When Billy Graham appeared on the Phil Donahue Show of October 11, 1979, in discussing Pope John Paul II's visit to the United States of America, Billy Graham said, "I think the American people are looking for a leader, a moral and spiritual leader that believes something. And he (meaning the pope) does. He didn't mince words on a single subject. As a matter of fact, his subject in Boston was really an evangelistic address in which he asked the people to come to Christ, to give their lives to Christ. I said, 'Thank God I've got somebody to quote now with some real authority.*'" How tragic. A man who once used the Bible as his authority is now putting the pope up on a pedestal and looking to him.
Faith for the Family, Nov. 1982 The Religious News Service reported on January 13,1981, "Pope John Paul II was closeted for almost two hours with the Rev. Billy Graham, the world's best-known Protestant evangelist." "Following the New England Crusade, thousands of those who came forward are now in the process of being integrated into the Catholic church. Meetings have taken place between the Graham Association and Catholic clergy for the transfer of these people to the Roman church. One such meeting took place at Pope John XXIII Seminary in Weston, Massachusetts, on the evening of June 9, 1982, when the names of 2100 inquirers were given to priests and nuns."
The Star, June 26, 1979 Rome gives nothing to anybody unless you pay it off. Could it be that his final pay-off was to introduce Pope John Paul II as the greatest moral leader of the world? Which he did. Didn't he realize when he did this he was giving the whore a cloak of respectability? And all of Billy's followers, the evangelicals and multitudes of others across this land who listen to his every word, heard this endorsement, and trusting Billy, turned and gave their love to the communist from Poland dressed in his papal robes, who claims to be the representative of Christ on this earth. I can picture the pope smiling to himself, flying back victoriously to Rome. He knew that Billy had been a good investment.
A Shoehorn For Elvis:
When anyone begins to accommodate all the people of the world, open worldliness must follow. Even so, it was shocking to read in the newspapers that Graham expected to see Elvis Presley in heaven. The San Francisco Chronicle for October 8, 1977, quoted an Associated Press dispatch from Charlotte as follows: "Evangelist Billy Graham says he thinks he will see Elvis Presley in heaven and is `pretty sure' he will die within the next tens years. `I never met him (Presley) but I believe I will see him in heaven because Elvis Presley was very deeply religious, especially in the last two or three years,' Graham said." Shoehorning Elvis into heaven seems to be a rather tough assignment, especially since it is predicated on being "very deeply religious" instead of repenting of sin and casting all on Jesus Christ.
Billy Graham A Star In Hollywood:
A Pic of Billy Grahams name engraved in the "Hollywood Walk of Fame" on Hollywoods sidewalk.

"The Blazing Star (Pentagram) has been regarded as an emblem of Omni-science, or the All-Seeing Eye, which to the Egyptian Initiates was the emblem of Osiris, the Creator."
Quote from Freemason: Albert Pike
Hollywood has been the fountainhead of the filthy motion picture industry. On October 14, 1989, our local paper, The News-Herald, carried the following story: "The world's best-known evangelist tomorrow will have his name and the likeness of an old-fashioned radio microphone engraved on the 1900th star along the Hollywood Walk of Fame." Apparently, this dubious honor by the most worldly of the world bothered Billy a bit, for the story continues as follows: "`I'm not sure a clergyman belongs in that group of entertainers,' Graham said sheepishly, noting that his star will be near those honoring Wayne Newton, Buster Crabbe, John Travolta, Judy Holliday, Julie Andrews, Olivia Newton-John and Greta Garbo.
... `A star was offered to me 30 years ago,' he said, `and I said, No then. But I've changed my views.'" I do not know all the celebrities mentioned in the above quote, but I do know that they were stars of worldliness and not of godliness. On first thought it would seem surprising that the Hollywood crowd would want a preacher's star in its crown. The newspaper went on to quote on that: "`I doubt there is anyone in Hollywood who has been seen, heard or enjoyed by more people than Billy Graham,' said Johnny Grant, Hollywood's honorary mayor and chairman of the Walk of Fame Committee. Grant said that the committee voted unanimously to give Graham the honor after he was nominated last year by friends who paid the $4,800 fee." This is the way the accommodation game is played. I won't protest your filth if you don't protest my star.
Billy Graham On Abortion:
on ABC's "Good Morning America" (GMA) (9/5/91), Graham, when asked the Christian position on abortion, said: "… there is a Christian position, I think. But I'm not prepared to say what it is." And, again two weeks later on GMA (9/19/91), Graham said: "But there are occasions when abortion is the only alternative" (although he didn't say when it is okay to snuff out innocent, unborn human life). (Reported in the 2/22/93 Christian News.)
We should not be surprised, then, to learn that Graham also holds to Rome's false gospel of baptismal regeneration! The following quote is from an article written in October of 1961 after Graham gave an interview to Lutheran clergyman Wilfred Bockelman, who was then the associate editor of The Lutheran Standard: (Emphasis added.)
"I do believe that something happens at the baptism of an infant, particularly if the parents are Christians and teach their children Christian truths from childhood. We cannot fully understand the mysteries of God, but I believe a miracle can happen in these children so that they are regenerated, that is, made Christians through infant baptism. If you want to call that baptismal regeneration, that's all right with me" (10/10/61 The Lutheran Standard).
Bockelman said, "One would assume that, as a Baptist, Dr. Graham would be opposed to infant baptism." Bockelman not only found this not to be the case, but that Graham's wife, Ruth, and all their children but the youngest, were baptized as infants. (Reported in the Summer 1991 Dorea, pp. 9-10.)
- Never mind that the Catholic sacrament of the Mass is the greatest attack ever on the finished work of Christ (cf. Heb. 10:19-22), Graham thinks the Mass is not only beautiful, but that it is clear in the gospel!: "This past week I preached in the great Catholic cathedral a funeral sermon for a close friend of mine who was a Catholic, and they had several Bishops and Archbishops to participate. And as I sat there going through the funeral Mass, that was a very beautiful thing, and certainly straight and clear in the gospel. There was a wonderful little priest that would tell me when to stand and when to kneel and what to do" (O Timothy, Vol. 10, Issue 9, 1993, pp. 16-17).
Billy Graham On Bill And Hilary Clinton:
A 1993 article from the Houston Chronicle quoted Billy Graham's favorable comments about left wing liberal President(s) Bill & Hillary Clinton:
"President Bill Clinton would make a great evangelist, the Rev. Billy Graham told U.S. News & World Report in a recent interview. … Graham said he was impressed with Clinton's charisma and 'with some of the things he believes. … From a biblical point of view, we should be headed in the direction of goodness and righteousness, away from crime and immorality,' Graham said, 'and towards one's neighbors who are in need. I'm encouraged by the emphasis President Clinton and Hillary are putting on that.'" Like what? Putting homosexuals in the military or helping to abort your neighbor's baby? Or perhaps Clinton's enthusiasm towards the New World Order? That Graham should have any kind words at all for a couple who represent the antithesis of biblical "goodness," "righteousness," and "morality" is bad enough, but for Graham to think that the Clintons are emphasizing these virtues exhibits a heretofore unprecedented level of ignorance and/or self-deceit on Graham's part. Graham attended a recent prayer breakfast in which Clinton participated. Senator Kerry read Jn. 3:1-21 (skipping verse 16) and said Christ was speaking of "spiritual renewal" and that "in the spirit of Christ … Hindu, Buddhist, Muslim, Jew, Christian" were meeting and "there is renewal … with a new President and Vice President. …" Billy Graham added, "I do not know a time when we had a more spiritual time than we've had today."
Billy Graham On An Afterlife:
``Somebody once asked me, ... `Will there be golf courses in heaven?'
I said, `If they're necessary for our happiness, they'll be there.' '' -- 1994 interview with Life magazine.
Billy Graham's Use Of Rock Groups:
Dr. Billy Graham uses rock groups to draw crowds for his crusades (see 6/1 & 8/1 CCs). Dr. Gordon Sears writes (8/24 letter): "I was sent a copy of Billy Graham's paper this week. He made the statement: 'The message--the Gospel of Jesus Christ--is timeless, but the packaging for the message needs to change according to the culture'. This was in reference to the use of rock groups, etc. Isn't it strange that for years, missionaries have said that the Gospel lifts the cultures of paganism up and changes lives, but now the opposite is taking place?"
Billy Graham Believes Pets Will Go To Heaven:
Author Richard O'Connor says famed evangelist Billy Graham agrees with him that pets go to heaven.
"When asked if animals go to heaven, Graham replied, `I think God will have prepared everything for our perfect happiness' in heaven. If it takes my dog being there, I believe he'll be there.' If Billy Graham believes our pets go to heaven, that's good enough for me."
Pets aren't "just animals," said O'Connor, author of "In Memory of a Special Dog" and "In Memory of a Special Cat." "And anyone who thinks they are has never owned an animal. Many pet owners are absolutely devastated when their pet dies. People really need to know that their pets survive death -- and they do. Their pets go to heaven and they will see them again."
The idea that an animal's spirit survives beyond death isn't new. Egyptians worshiped cats as gods and their bodies were mummified for the afterlife. O'Connor says Francis of Assisi believed pets survive death and are rewarded by God.
Illustrious writer and veterinarian James Herriot of "All Creatures Great and Small" fame also believed pets go to heaven. Once, an elderly woman admitted she was afraid she'd never see her dogs and cats again. "I'm absolutely certain of one thing. Wherever you are going, they are going too," he told her. (National Enquirer, 10-16-1998, www)
Dick could be fibbing, but if Billy actually said pets go to Heaven when they die he is either senile or he said it to make people feel good. Either way he needs to shut his mouth. If he is senile he has no business speaking and if he says idiotic things like this he needs to shut up. He is doing exactly what YAHWEH said preachers would do in the apostasy of the last days -- tickle the ears of backslidden believers (2 Tim. 4.3,4).
It must be remembered that Billy Graham did not become a superstar televangelist because he was blessed by YAHWEH. He became a superstar because he was blessed by the devil. When Billy started holding his tent revival meetings in Los Angeles just after World War II he received help from Randolph Hearst. Hearst told his editors to "puff Graham" which meant to give him favorable coverage. He made Graham a superstar through his newspapers. Soon other powerful men backed Graham and Billy preached what the backsliders and apostates wanted to hear. He told them that the Roman Catholic Church was a true church and that Catholics who got saved at his rallies should go back to their churches. He preached ecumenicalism hard and heavy and had men from numerous denominations and religions on stage with him. He became a powerful force in the satanic ecumenical movement.
---
Graham Revisits Florida Roots
The Rev. Billy Graham slipped into the North Florida town of Palatka on Sunday - where he was baptized and ordained more than 60 years ago - to see a new mural of himself and meet with friends.
About two dozen people came by City Barber Shop to visit the ailing 82-year-old evangelist, who is being treated as an outpatient at the Mayo Clinic in Jacksonville.
Graham was baptized in nearby Silver Lake in 1938 and ordained at Palatka's Peniel Baptist Church the next year. "I won't tell you what's wrong with me because I'm not sure I know myself," he told the crowd, adding that he is getting better a little at a time." Graham has Parkinson's disease.
Rev. Billy Graham identifies with the Southern Baptist Convention.
The Tampa Tribune
---
Billy Graham is now semi-retired and has been succeeded by his son, Franklin Graham (author of Rebel with a Cause.)